"Write about a memory that you will never forget. You have ten minutes. Ok ladies the timer starts now. "…Oy Vey!
Writing was the theme for tonights second session of The Thought Leadership Circle. "Hi " old lady in the Zoom Room again. I did do a great job on my homework this past week. Post something on at least one social media platform everyday. Done. I posted a nice variety. I wrote a witty blog recalling my experience from the first week of TLC that I then shared on Instagram and Facebook. I made a sweet collage utilizing my artwork as well as family pictures for a thoughtful Mother's Day post on The Gram. I shared a well done Reel, if I do say so myself, with make you cry music highlighting my daughter's Prom night. I managed to post 7 days in a row! Whoo Hoo!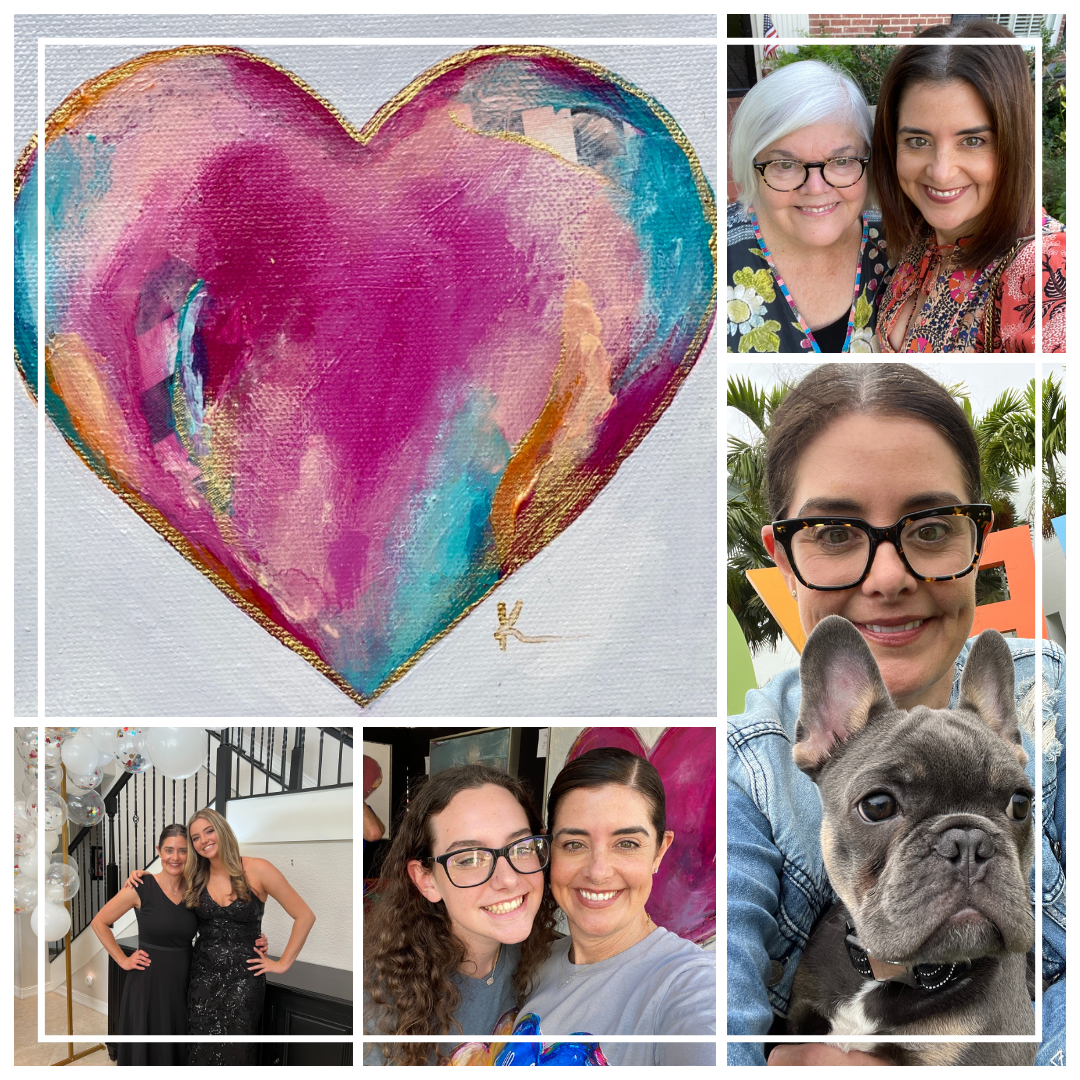 Anna begins her presentation with a beautifully curated slide show, undoubtedly created in Canva Pro with her on brand color palette. She starts to discuss Writing Principles. I take notes.
1) Make "I" statements instead of "you" statements. No problem.
2) Have a great Hook. I can do that! Hooks are my speciality
I'm so glad that Norman is behaving himself right now . Good call taking him out before this started. Man, my contacts are dry! Shit I gotta make dinner quick when this is over before Cami gets home…..I'm so excited for lemon pasta tonight. Oh no, did I use the last lemon?
3) Mother Fucker! What was 3? Pay attention Kelly!
"Ok ladies..times up" Then we were broken up into virtual groups of two. I was paired with Kensie. I wasn't too nervous going in. I mean really, who can write well in 10 minutes? Apparently Kinsie can! I let her go first. She read me her 10 minute memory. It was lovely! She had a great "hook" she spoke eloquently about how nerve wracking it was for her when she picked up a camera for the first time. She used great descriptive words to convey the feeling she had that day. She even managed to write a resolution. Well done Kensie! Was I able to offer any constructive criticism? No. No I was not. I don't do well under pressure and at that very moment I could barely remember anything she said. All I could focus on was my ridiculous story I had written about how I met Evan, and that I was about to have to read it out loud. My turn Oy Vey again! Now, I was pretty proud of my hook "We came out of the ladies room cackling about wrinkly cleavage and we all lifted our blouses at the same time to take a peek. As I looked up, he was staring at me" The rest of it was pretty meh. Writing for me doesn't happen quickly. This shit takes time, although you might not be able to tell judging from this blog.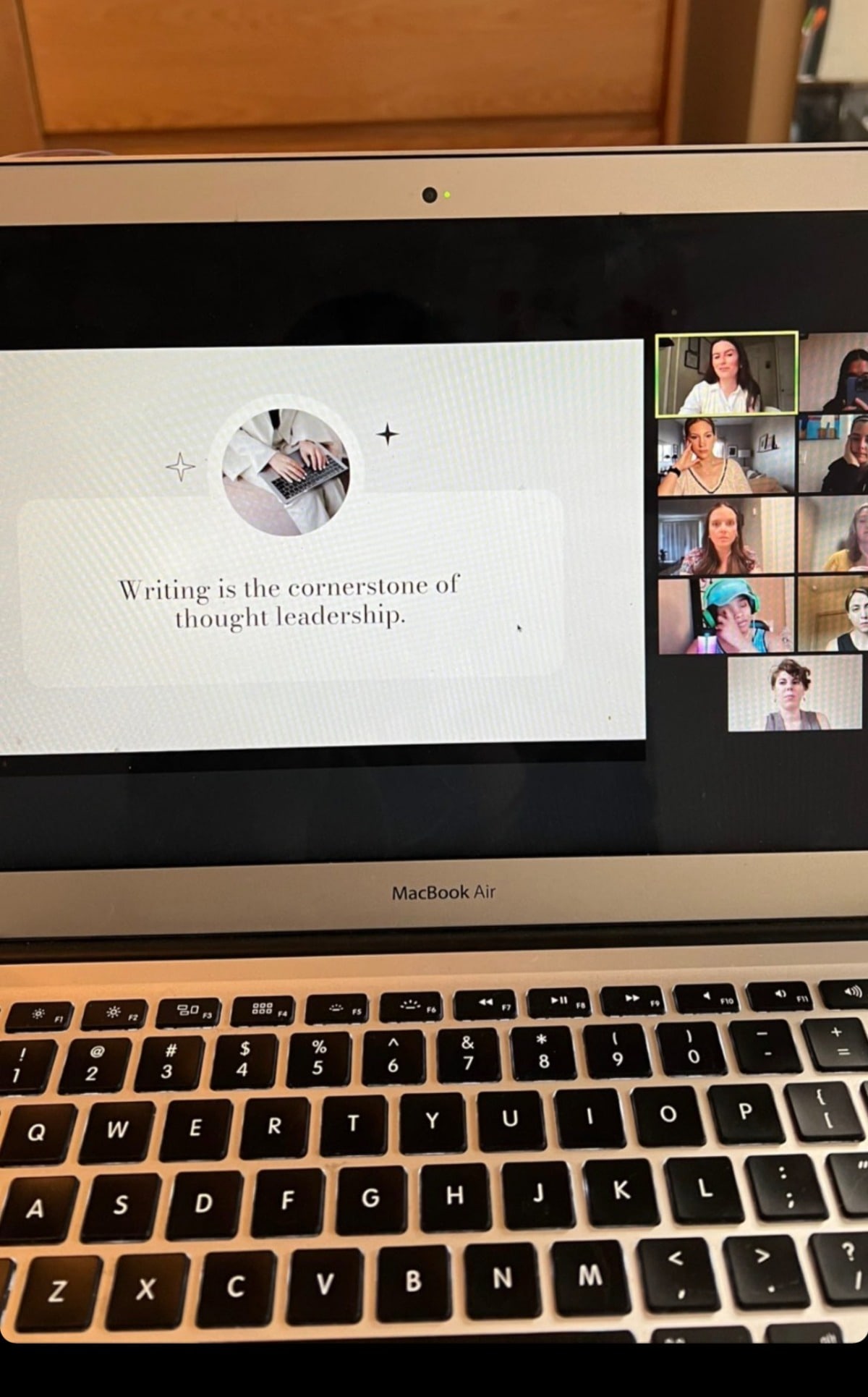 But this is how I write. I am sarcastic and occasionally I throw in a swear word or two for authenticity. I like to offer details in order to create a "mental movie" as beautiful Ariana said once our group Zoom resumed. Maybe I offer too many details. But you know who likes my writing? My mom...oh, and Peggy.
So here I sit, back at my kitchen table writing this blog as the dishes from my lemon pasta sit dirty in the sink because I wanted to make sure I remembered everything I wanted to say about tonight.
Kensie and I are now editing buddies. We agreed to email each other copies of the stories that we wrote. Should I fight the urge to go back and edit what I wrote before I send it to her? So she can recognize that I am a bit better than my performance tonight? Do I send her the link to this blog so she sees what was happening in my ridiculous brain at the time?
I am so grateful for this opportunity even though it is bringing out some crazy insecurities in me. I am learning a lot about myself. The young women in this group are smart, supportive, kind and way more insightful than I ever was at their age. Shit, they are more insightful than I am at this age. Until we meet again TLC. I look forward seeing your content & being inspired!